TKK | Tietoverkkolaboratorio | Opetus
Mikko Uljas (Spectrum Allocation, SHTML)
Changli M. Liu (IMT-2000, Umts Launch, Service Applications)
Jagdeesh Rajani (Evolution, UMTS Network, Pictures)
UMTS - Third Generation Telecommunications System
The Third Generation Mobile System is the future mobile communication technology that carries existing and future services on a unified platform. The platform is designed in a way that technology changes and evolvements can be adapted to the network without causing any harm to the existing services using the existing network structure. The International Telecommunication Unit refers to Third Generation Mobile System as IMT-2000 which refers not only to be approximate year when it was expected to be launched but also the operating frequency band of around 2000 Mega Hertz.
This paper begins with an overall introduction of Third General Mobile Telecommunication System, then focus on European Universal Mobile Telecommunication System (UMTS) technology, its evolutional steps and its current developing status. The aim is to give the reader a general understanding of Third Generation Mobile Systems from both technical point of view and applicable point of view. Also analysis of the market potential of Third Generation Mobile Telecommunication System are presented.
In Europe, the Third Generation Mobile System is called Universal Mobile Telecommunications System (UMTS) which employs Wideband Code Division Multiple Access at the air interface to provide access rate up to 2 Megabits per second. With Third Generation Mobile System, the frequency spectrum will not be used for free, on the contrast, it will be granted to the operators with license. Europe has allocated paired bands 1920MHz-1980MHz and 2110-2170MHz for Frequency Division Duplex and 2010-2025 MHz for Time Division Duplex. Currently the spectrum allocation process is carrying on across European countries in various forms.
International Telecommunications Union (ITU) refers to the Third Generation System (3G) as International Mobile Telecommunications 2000 (IMT-2000). IMT-2000 aims to unify the current diverse wireless access systems into a flexible radio infrastructure capable of offering a wide range of multimedia services which will enable mobile communications happen at anytime in anywhere. IMT-2000 refers not only to the approximate year when it was expected to be launched but also the operating frequency band of around 2000MHz.
The 1992 World Administrative Radio Conference (WARC) allocated the radio frequency between 1885MHz and 2200MHz to be reserved for IMT-2000 on a global bases. In specific, Europe has decided to use paired bands 1920MHz-1980MHz and 2110MHz-2170MHz for Frequency Division Duplex (FDD) operation and the unpaired bands 1900-1920MHz and 2010-2025MHz for Time Division Duplex (TDD) operation. In Japan, there is an identical allocation for FDD but there is no allocation for TDD operation. In the US, the spectrum allocation is different. Section of the 2GHz band are already in used in its 2nd generation mobile system, therefore it is not possible to achieve a common worldwide frequency allocation for IMT-2000.
Currently, the Japanese operators are working with standardization groups to create workable radio standards and network standards, and they have already submitted their results to INU as candidates for the IMT-2000 standard. According to their proposal, the air interface is based on Wideband CDMA (WCDMA), but the network will have several evolutionary elements from Japanese second generation digital standard.
The USA have developed extended capabilities for IS-95 narrowband CDMA (CDMAOne) which is known as CDMA2000. The network protocol is based on IS-41 which is used in existing AMPS networks and is known as TIA/TR45.5.
The Universal Wireless Communications Consortium (UMCC) proposed a Time Division Multiple Access (TDMA IS-136) solution for 3G which is known as UMW-136. UWC-136 provides an evolutionary path for delivering user data rates up to 384kbits/s for wide area coverage in all environments and 2Mbits for indoor coverage.
For European manufacturers and GSM operators world-wide, 3G is referred to Universal Mobile Telecommunication System (UMTS). UMTS Terrestrial Radio Access ( UTRA) radio interface was also a candidate for the IMT-2000 radio interface. UTRAN is composed of Base Station which is equivalent to the GSM BTS and the Radio Network Controller (RNC). The modulation technique used in the UTRAN is WCDMA with FDD and TDD. This mode offers the highest efficiency within a single system in whatever the conditions from urban to rural, from outdoor to indoor.
Evolution is one of the most common terms used in context of UMTS, generally it is understood to mean the technical evolution, i.e. how and what kind of equipment and in which order they are brought to the existing network. In order to understand the meaning of the evolution, it should be seen as a part of a larger entity. The Context of UMTS not only covers the technical evolution but also network service evolution. When these evolution types are going hand in hand the smooth migration from 2G to 3G will be successful and will generate revenue.

Figure 1. Migration from 2G to 3G
When talking about the services, the most remarkable difference between GSM and 3G is the presence of the data transfer possibility; basic GSM offers 9.6 kb/s symmetric data connection between itself and the terminal.
The service palette of the Basic GSM is directly adopted from N-ISDN (Narrowband ISDN) and then modified to be suitable for mobile network purposes.
The very natural step to develop the basic GSM services was to add service nodes and service centres on top of the existing network infrastructure. The common name for these service centres and nodes is VAS Platform (Value Added Service Platform). The VAS Platform contains typically two equipment; Short Message Service Centre (SMSC) and Voice Mail System (VMS). From service evolution point of view, VAS was the very first step to generate revenue in GSM.
But due to requirements raised from end-users, the Intelligent Network concept was integrated together with GSM network. Technically this means major changes in switching network elements in order to add the IN functionality in the GSM. Due to the Internet and electronic messaging the pressures for mobile data transfer has increased a lot and to ease this situation a couple of enhancements have been presented in GSM.
Firstly, the channel coding is optimised. By doing this the effective bit rate has increased from 9.6 kb/s up to » 14 kb/s. Secondly, to put more data through the Air interface, several traffic channels can be used instead of one. This arrangement is called HSCSD (High Speed Circuit Switched Data) providing the data rates from 40-50kb/s.
Further, providing the data services a new network GPRS, General Packet Radio Service is being integrated with the GSM. GPRS requires two mobile network specific service nodes being SGSN (Serving GPRS Support Node) and GGSN (Gateway GPRS Support Node). By using these nodes the Mobile Station is able to form a packet switched connection through the GSM network and this connection utilises circuit switched resources.
When packet switched connections are used, the QoS (Quality of Service) is a very essential issue. In principle the GPRS supports QoS concept but in practise not. The reason here is that GPRS traffic is always second priority traffic in GSM network: By applying a completely new air interface modulation technique, 8-PSK, where one air interface symbol carries combination of three information bits, the bit rate in air interface can be remarkably increased. When this is combined together with very sophisticated channel coding technique(s), one is able to achieve data rate 48 kb/s per traffic channel (please note: normal GSM is able to carry 9.6 kb/s per channel and one information bit is one symbol in air interface). These technical enhancements are called EDGE (Enhanced Data rates for Global/GSM Evolution).
EDGE concept is divided into two phases, EDGE1 and EDGE2. EDGE1 is also known as E-GPRS (Enhanced GPRS). EDGE1 defines channel coding and modulation methods that enable up to 384 kb/s data rates for packet switched traffic. And EDGE2 contains definitions how this same speed is achieved for circuit switched services
3G introduce new radio access method, WCDMA. The radio interface of UMTS is called Utran (UMTS terrestrial radio access network) and is now being specified by the European standards bodies. Utran defines the radio interface and type of radio transmission system and protocols that will be used for UMTS.
Like GSM, the Utran system will consist of a number of hierarchical layers. The higher-layer macrocell will use W-CDMA's frequency-division duplex. The user will be given a special CDMA code and total use of the frequency spectrum allocated. The macro layer will provide the basic data rates of up to 144 kb/s. The lower layers will provide the higher data rates of 384 kb/s and 2 Mb/s by means of frequency-division duplex but with more codes. It may also be possible to use a time-division duplex approach for the higher data-rates.
UMTS employs WCDMA at the air interface which provides access rates as indicated below.
Indoor/lLow range outdoor (moving speed) < 10km/hour : < 2Mbit/s
Urban/Suburban (moving speed) < 150km/hour : < 384 kbit/s
Rural Outdoor (moving speed) < 250km/hour : < 144kbit/s
The bit rates for UMTS have been specified according to existing ISDN rates. The 144kbit/s rate provides the ISDN 2B+D channel, 384kbit/s provides the ISDN H0 channel (6?64kbit/s), and 2Mbit/s (1920kbit/s) provides the ISDN H12 channel. However, these figures have caused much debate in the specification bodies. UMTS will enable wideband mobile multimedia services such as video, intranet/internet access and high speed corporate data communications.
From a physical point of view, UMTS will consist of a WCDMA air interface and a new radio network components. The aim is to combine these new network elements in a modular way with components for per-UMTS fixed and mobile networks. UMTS has been designed to evolve from GSM and GPRS network infrastructures. These new network elements as shown in Figure 1, are the Radio Network Controller(RNC) and WCDMA Based Station(BS).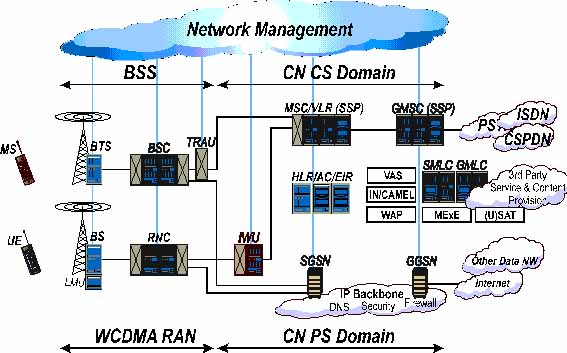 Figure 2: 3G Network Scenario
A Public Land Mobile Network (PLMN) is established and operated by an administration that provides land mobile telecommunications services to the public. The PLMN infrastructure is logically divided into Core Network(CS) domain and a Packet Switched (PS) domain. The Access Network is known as BSS for GSM network and RAN for UMTS networks.
A CS connection is a connection where dedicated network resources are allocated when the connection is established and removed when the connection is released. The elements specific to the CS domain are the 3G-MSC and VLR. A 3G MSC is a third generation MSC that supports the lu interface and optionally the A interface to a BSC. A PS connection transports the user information using packets. The network elements specific to the PS domain are the GPRS specific entities SGSN and GGSN. All the other network elements are common to both domains as the HLR, RNC, NSC and base stations.
UMTS employs WCDMA over the radio interface and the signals are then conveyed from the base station back into the network using Asynchronous Transfer Mode (ATM). The ATM cells can be carried in 2Mbit/s signals or SDH using optical or radio links. A protocol layer known as the ATM Adaptation Layer 2 (AAL2) is used for compressed voice transmission and another adaptation layer, AAL5, is used for user packet data (e.g., IP) and control/signaling information. AAL2 enables the efficient transmission of low-rate, short, and variable length packets in delay-sensitive application, Variable Bit Rate (VBR) services with AAL2 enable statistical multiplexing of several voice signals into a single ATM cell. AAL2 reduces the packetisation delay of compressed speech and provides silence detection and suppression.
The licensing process for the provision of third generation IMT-2000 networks has already begun. It's anticipated that about 100 licence awards are dealt over the next 18 months. Provision methods are varying from country to country rather largely. Some have decided to give these licences for free while others try to get as much money as possible. Basically provision methods can be divided into there categories:
beauty contests
auctions
hybrid auction/beauty contests
In beauty contest licences are dealt in other than financial motives. Applicants are appraised with technical, political or ethnical abilities. Also some kind of fixed or per year payment can be required. For ex. countries like Sweden and France have decided to allocate their licenses in beauty contest.
Finland has already allocated third generation licenses by beauty contest. Four national licenses were awarded to:
Sonera
Radiolinja
Telia Mobile
DNA Finland (former Suomen 3G)
In auctions licences are dealt to those whose offer the highest bids. For ex. Denmark and Italy have decided to allocate their licences through auction. From the auctions already been held the bids have risen highest in Germany (DM 98,8 billion, about FIM 300 billion) where six licences were awarded to:
T-Mobil
MobilCom
VIAG Intercom
Mannesmann
E-Plus Hutchison
GROUP 3G (Telefonica and Sonera)
Hybrid auction/beauty contests are some kind of mixtures of both. For ex. there can be some kind of pre-qualification considering technical abilities and after that remaining applicants solve the licences in auction.
Also additional requirements can be set in all of these provision methods. There can be for ex. minimun coverage requirements which applicants have to fullfill in a certain time period. Otherwise provision can be withdrawn.
For more detailed information please refer to IMT-2000 Licensing Condition & Status document published by UMTS Forum.
Overall wireless internet will be a major application of third generation mobile system. And it is on the horizon. Standardization is proceeding apace, intellectual-property rights clashes have more or less been resolved, and field trials of 3G system are ongoing in Asia and Europe. Japanese operator NTT DoCoMo seems certain to launch 3G service in 2001 and European operators will not be far behind.
UMTS mobile system represents a unique opportunity to create a mass market for highly personalized and user-friendly mobile access to tomorrow's " Information Society ". It will enable to deliver high-value broadband information, commerce and entertainment services to mobile users via fixed, wireless and satellite networks. UMTS will also speed convergence between telecommunications, IT, media and content providers to deliver new services and create fresh revenue-generating opportunities. At the same time, it will deliver low-cost, high-capacity mobile communications with global roaming and other advanced capabilities.
Subscribers, however, will not have to wait for the advanced capabilities of the 3G technology in order to put the Internet into their pockets. Wireless Internet is being delivered by evolutionary technologies such as WAP ( the Wireless Application Protocol) and GPRS ( General Packet Radio Service). Digital wireless operators in markets in parts of Europe, Asia and North America are already offering WAP capability. And nearly every major handset vendor has at least one WAP-enabled model in its portfolio and well over 50 GPRS infrastructure-deployment contracts have been signed by European and Asian operators with commercial GPRS services scheduled to launch earlier next year. It is very likely that WAP and GPRS will have a dramatic effect on the personal and professional lives of wireless subscribers by allowing them access to a whole new world of nonvoice services. In essence, WAP is a way of arranging Internet data to fit on the small screen of a mobile phone, while GPRS is a way of moving data faster and more efficiently over wireless networks. WAP and GPRS are the first steps towards 3G world.
The most important service application categories of UMTS include: Location based Service; Entertainment Services, B2C services; Office Extension; Tele Medicine and Telematics/Telemetry Monitoring
Wireless location technologies will become a crucial tool for providing the right services, at the right time, in the right location for mobile customers. In the fast approaching age of the mobile internet, end users will not want to pay mobile Internet charges for irrelevant information. Cellular operators must be able to deliver pertinent and accessible information to their customers. Information services will make user of information banks where information is filtered according to the relative position of a user and the service he or she has selected. On the other hand, location -based services provide another tier of customer knowledge that allows Internet businesses to deliver "context" specific services that also deliver added value to the customer:
Navigation/reservation/ordering depending on user's actual location
Home/local/travel information depending on user's actual location
Translation services depending on cellular/roaming information
Up-link for satellite-based interactive services
End user assistance services: low usage services designed to provide end users with safety networks for difficult situations such as roadside assistance and emergency services
Monitored person location: includes data for health care, emergency calls and prisoner tagging
Third party tracking services for both corporate and consumer markets. Information regarding the location of third party is provided for use in fllet management, asset tracking and people finding
Trigger services are automatically initiated when end users enter a pre-determined area. Examples include location-based billing and advertising services
Billing models dependent on the location of the source and destination of actual communications
Location-based services offer a global opportunity for new revenue although complex location-based services are still a few years away from introduction. However network operators can user the technology available today to differentiate and gain market leadership and hone critical technical skills. These opportunities to differentiate service portfolios, improve network efficiency and create greater pricing flexibility to address discrete market segments.
Games are one of the major part of the entertainment sector and are a proven way to draw users into new applications and devices. Although games are often focused towards young people, mobility could present an opportunity for both game developers and games services. 3G systems offer the possibility to play games independently of location and time. Remote gaming enables a user to play games in a person-to-machine mode or between multiple persons in different locations. Providers also target particular segments such as commuters, thereby embracing adults but within a feneral group having different education levels and cultures. Games delivered through mobile phones or other mobile terminals not only allow users to play a wealth of games but can also allow persons to play interactive games with any user around the world. In the gambling area, virtual casinos, online gambling, blackjack, poker, horse racing, sports betting, lottories and slot machines can all be offered to users. Web sites permit users to play either for fun or for money by opening an account and leaving a deposit in a banking center.
On the other hand, UMTS will become one of the most valuable tools for the travel and tourism industires. Travel information services are often location dependent and location information will be a feature of 3G mobile networks that will then become the key to reach the offered services. Travel services encompass numerous aspects of traveling. Relevant application building blocks include positioning, information and news, multimedia and m-commerce that together will enable an unlimited number of services.
With UMTS remote learning services can also be cost-effectively provided to areas where the cost of the installation of field lines would be prohibitively high such as rural area with low user density. Remote learning could also be enabled in a costlines is comparatively low. In this scenarios, mobility support may not be a major factor. The ability of 3G systems to provide high bandwidth and interactivity support combined with the lower cost of infrastructure installation could be important advantages. UMTS will also enable students and teachers to access additional educational and support material.
In the highly competitive world market, both existing and start up enterprises must stabilize their existing market position and attempt to gain new market share. THis implies increasing their customer base, offering new innovative product services and solutions, and acting globally at all times. The shift from an industrial to an information society is leading to a change in the nature of work from product manufacturing to the delivery of information and services. Both UMTS and the Internet are global concepts and the combination of the technologies will enable enterprises and organizations to address, advertise and sell their products and services worldwide to new targeted customer groups to satisfy their spontaneous demands. This leads to a broader customer base and more business.
Meanwhile, using the unique mix of features provided on the UMTS platform enterprises can optimize the customer care services. In many cases communication between the customer and the enterprise is a "person to person" communication. The customer has a strong requirement to get immediate competent answers to his/her questions, however the expert needed to respond is often not available at his desk. The global mobility approach including the " One Number Service" gives the company the chance to connect the customer directly to the mobile expert. In order to solve the customer's problem the expert will have remote access to all relevant information to needs from the corporate at any location in the world. The net result is that the direct, fast and competent resolution of customer's problems improves the satisfaction of both customers and employees.
In europe and North America there is a rapidly growing demand for teleworking. The statistic shows that within European Union, nearly 50% of the people and 40% of the decision makers support this manner of working. Teleworking encompasses both home working in a private dwelling as well as mobile working whilst traveling or changing locations. The first scenario will be realized typically through field network access or indoor wireless systems. In the second scenario the mobile worker requires mobile brodband access anytime, anywhere and this will contribute significantly to the development of the overall UMTS market. The implementation of third generation systems together with the Internet platform offers global mobility combined with high bandwidth and will enable employees with increasing efficiency.
It is of utmost importance that mobile workers got their personal service profile at any place in the world independent of the actual network operator. The proposed concept of virtual Home Environment (VHE) in 3G systems leads to the portability of services over "borders". This enables mobile workers to achieve the same productivity anywhere at home or when traveling, thus not losing productive time as a consequence of training periods at every new location. VHE will therefore become a means of increasing staff efficiency. It is fair to say that considerable time and money will be saved with the introduction of the VHE concept once employees are able to use services at any places in the world in the manner that they are accustomed to at home. All these opportunities lead to advantages in the competitive environment providing additional business opportunities for both operators and enterprises.
In the global economy, groups of people must work together despite being separated by time and distance; they build a temporary virtual company. These work groups must find ways to collaborate, and computer-based technologies such as groupware are being used to support them. Teams who share a common mission and performance objectives depend on each other to complete a myriad of small tasks in a timely and co-ordinated manner in order to achieve significant milestones. Often collaborative work though long recognized as better quality is foregone, because it take s too much time and effort to keep all the pieces moving together. In today's world the arduous task of scheduling meeting times, of actually reaching a live person on the telephone or walking down the hall to get a quick piece of information has become an ongoing frustration challenging relationship, commitments and deadlines.
The health care system is discovering telecommunication and Internet services, which improve contacts between physicians for the transfer of patient data. Contacts with patients can also be improved through telecommunication capabilities. Particularly, within UMTS, user security features, user authentication, encryption and the user's traffic integrity aim to guarantee the performance of data exchanged between physician an patient transfer on the radio path and on the fixed network. A large number o telemedicine services can be identified:
Monitoring patients at their home and on the mobile. Monitoring equipment can work on a stand-alone basis but be connected to doctors of hospital computers on demand for further action. Mobility gives the patient freedom to move without inhibiting necessary medical data exchanges.
Doctors on the move can access their patients records, order prescriptions and medical services such as laboratory tests, access database listing drug interactions, allergies, etc.
Ambulances at an accident location or on the move to the hospital can receive data concerning the patient ot facilitate pre-treatment and can have interactive communications with a doctor at the hospital at a critical time int e care of the patient.
Consultation services allowing patients to pay and receive prescriptions from their doctors
In developing countries or areas with a low density of population or with a poor telecommunications infrastructure physicians can be supported through mobile access to necessary information
Specific examples of telematics services made possible by UMTS include: self-diagnosis checks for vehicles before breakdowns occur; the provision of breakdown service when the vehicle has an immediate fault; handling emergency callss when the vehicle breaks dwon ; and positioning information giving th eexact location of the vehicle. In Europe, field trials have been conducted with the automobile industry to install GSM chipsets in cars to monitor performance. These provide an early warning system that sends a message to the manufacturer indicating the proble. SOme car manufacturers are also incorporating telematics into their to-of-the-range vehicles where the additional expense can be easily absorbed.

rental cars are likely to be the first to arrive on the market with telematics. A key driver will be product standardisation. Many major manufatureers within the automobile industry are working together to develop revenue-generating content services for "Intelligent Cars". The aim is to launch in-car srevices in the telematics market and drive universal standards for telematics equipment.

All the information presented in this paper is collected from various open sources:

Copyrights:

Tämä sivu on tehty Teletekniikan perusteet -kurssin harjoitustyönä.
Sivua on viimeksi päivitetty 08.12.2000 00:15
URL: http://www.netlab.tkk.fi/opetus/s38118/s00/tyot/67/index.shtml