DT-Talkie is a DTN-based voice messaging application that enables mobile users to communicate over infrastructure-less and challenged environments in the walkie-talkie fashion. DT-Talkie supports both one-to-one and group communication. DT-Talkie is primarily implemented for Maemo based Nokia Internet Tablet. We port DT-Talkie application to heterogeneous endpoints like Mac, Linux PC and Openmoko based smartphone as well. DT-Talkie is now available also for Symbian.
The idea is that if User A wants to talk with User B, he presses a button (fullscreen hard button of Nokia Internet Tablet) after selecting User B's EID (Endpoint Identifier) and start talking. After finishing the talk, he presses the button again. Then DT-Talkie forwards his voice message over the DTN infrastructure destined to User B. On the other end, User B can hear the voice message as soon as it is received. User B communicates with User A using the aforementioned approach.
System Architecture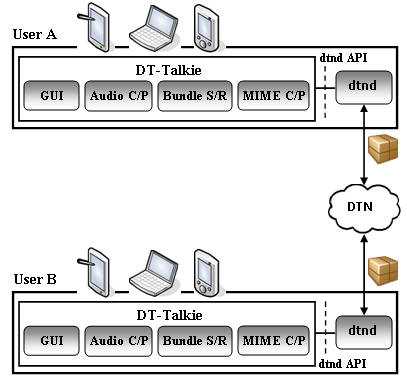 Audio C/P
Captures voice from the audio source
Saves encoded voice in a local file
Plays the received voice message in the audio sink
MIME C/P
Creates a multipart MIME message that includes the encoded voice data along with the sender's profile picture
Parses the voice message and the sender's profile picture from the received bundle
Bundle S/R
Encapsulates the MIME message in the DTN bundle
Sends the bundle over DTN infrastructure
Receives the bundle that comes over DTN infrastructure
GUI
Creates the main window
Draws several widgets over the window
Handles interrupt of the hardkeys
dtnd
Runs as a background process
Provide the bundle protocol services to the application through dtnd APIs
Technologies
GTK+, Hildon - Used for GUI
GStreamer - To capture and playback voice messages
GMime - To create and parse MIME messages
DTN Reference Implementation (Version 2.6.0) - To send and receive DTN bundles
DT-Talkie Screenshot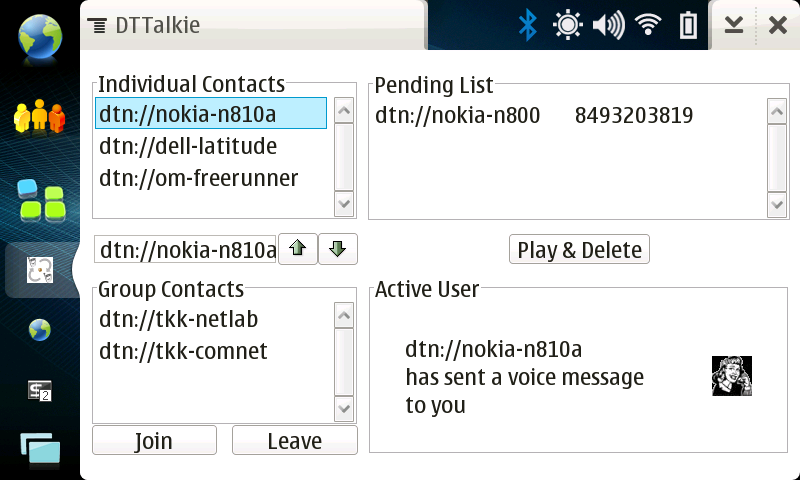 Individual Contacts: list of EIDs used in one-to-one communication
Group Contacts: list of EIDs used in group communication
Pending List: list of voice messages which have not been played back yet
Active User: shows sender's EID and profile picture as soon as a voice message is received.
There is a text entry box in between the individual and group contact list to input EID that is not available in the list. There is also a add-up and a add-down button along with the text entry box to add EID in the appropriate contact list.
Installation
The DT-Talkie installation instructions are given for Nokia N810. The instructions are also applicable for Nokia N800 if OS2008 is flashed to the device. dtnd must have to run in the system before launching DT-Talkie application. So we also provide installation guidelines for dtnd if it does not run in the system.
dtnd installation
Open a new terminal and type sudo gainroot to gain the root access.
Install the downloaded packages using the command dpkg -i example.deb.
To instantiate dtnd, first run the command dtnd -c /etc/dtn.conf --init-db to initialize the database. dtnd may ask you to create a new directory /var/dtn. Create the directory and run the command again. Then execute dtnd -c /etc/dtn.conf -l info command. In the default dtnd configuration, we use filesysdb storage type, flood route type, and both Bluetooth and TCP convergence layer. Bluetooth and IP discovery mechanisms are used to discover other peers dynamically which has respectively Bluetooth and Ad-hoc Wi-Fi connectivity.
DT-Talkie installation
Download gmime-2.4 and DT-Talkie version 2.1 debian packages.
Open a new terminal, gain the root access and install the downloaded packages.
Open /media/mmc1/.dttalkie/account file and write your EID (e.g. dtn://nokia-n810). A profile picture (PNG or GIF or JPEG format) of the user can be saved in the /media/mmc1/.dttalkie directory with renaming the picture filename as profile_pic.
In the terminal, type run-standalone.sh dttalkie to run the DT-Talkie application. It is also possible to launch the application from "Extras" menu.
You can also get DT-Talkie version 2.0 and DT-Talkie version 1.0 debian package.
Publications
Md. Tarikul Islam: Voice Communication in Mobile Delay-Tolerant Networks. Masters thesis, Helsinki University of Technology, 2009. [PDF]
Md. Tarikul Islam, Anssi Turkulainen, Teemu Kärkkäinen, Mikko Pitkänen, Jörg Ott: Practical Voice Communications in Challenged Networks. Accepted for publication at the 1st Extreme Workshop on Communications. Padjelanta National Park, Lapland, August 2009. [PDF]
Md. Tarikul Islam: DT-Talkie: Interactive Voice Messaging for Heterogeneous Groups in Delay-Tolerant Networks. In Demo at IEEE CCNC 2009. [PDF] [Poster]
Md. Tarikul Islam: DT-Talkie: Push-to-talk in Challenged Networks. In Demo at ACM MobiCom 2008. [PDF] [Poster]
Acknowledgements
This work was funded by Nokia Research Center and CHIANTI project of EU FP7 programme.
© 2008-2010 TKK Comnet